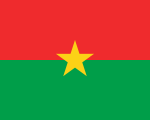 Today I was lucky enough to moderate a discussion with a group of six members of parliament (four women and two men) from Burkina Faso, who are in the US for a study mission through NDI and the Institute for Responsive Government.   We discussed the differences between Burkina Faso and the US, of course, but also the similarities in terms of the challenges and demands faced by politicians and parliamentarians across the globe.
We talked about the rigors of political life, especially for women; the competing demands of family and work; the need for effective outreach to, and communication with constituents, as well as the need to stay close to them and their concerns and needs.  They were a great group and I learned a tremendous amount from them about Burkina Faso but also about how, despite cultural and economic differences, women and men in elected office around the world have so much in common.
My favorite moment was when one of the women parliamentarians asked why the US Congress only has 17% women given the resources available to women here in the US.  (Burkina Faso's parliament has about 17% women as well.)  And, my answer is always that as Americans we need to work harder to encourage women to see politics as critical and relevant to their daily lives, and to break down the cultural norms that exist around women and power.
Many thanks to Susan Markham at NDI for the invitation; it was a pleasure.