Upcoming Take Action Events
How to Take Action Every Day to Stop Teen Dating Violence

The recent CDC report relaying staggering statistics on the violence faced by teen girls today, has moved many people to want to take action…as a citizen, a bystander, or as a caring friend or co-worker. Stephenie Foster and gender experts from leading organizations will share new information about what individuals can do in their daily lives to combat teen sexual violence.
Join the free webinar on Wednesday, April 5th to learn what works best, what doesn't work, and steps all of us can take to change the circumstances faced by young women.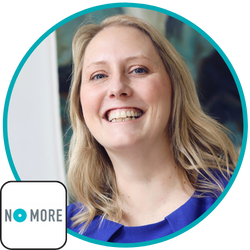 Lyndsey Dearlove
Global Director Operations, The NO MORE Foundation
Lyndsey Dearlove, Global Director Operations, The NO MORE Foundation – an international movement dedicated to ending domestic violence and sexual assault by increasing awareness, inspiring action, and fueling culture change. With more than 1,800 allied organizations and chapters around the world, NO MORE sparks grassroots activism, encouraging everyone—women and men, youth and adults, from all walks of life—to be part of the solution.
Lyndsey is a passionate advocate for social justice with almost 20 years of experience addressing and preventing domestic and sexual violence. She led Hestia's response to the DA Act 2021 championing the recognition of children, protective status (NHS), and the role of the employer. Over 160 MP's and parliamentarians joined the call to action.  In 2016, while at Hestia, she set up and led the UK chapter of NO MORE.  In addition, Lyndsey led the development of "Safe Spaces," an initiative that allows people experiencing domestic abuse to safely and discreetly get help when they go to participating pharmacies and banks. She co-created "Online Safe Spaces," an online portal, used over one million times, that also provides discreet specialist domestic abuse support.
Lyndsey has worked extensively with employers in the UK and globally, supporting them in their internal response to domestic abuse – consulting on employee policies, managing focus groups on the issue, and developing internal communications campaigns to present the issues. Lyndsey continues to champion the role of the employer and that of businesses in the response to domestic and sexual violence.
Lyndsey co-developed with the Vodaphone Foundation the successful Bright Sky app., a free app. for domestic abuse survivors and their loved ones to find support.
In prior positions at Hestia and other housing specialist charities, she managed trauma-informed domestic abuse services, such as refuges, Independent domestic abuse services (IDVA), community-based specialist domestic abuse services, and special services for children. She remains focused on ensuring that the voices of those with lived experience are raised and heard.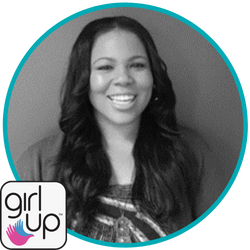 Chandeerah S. Davis
Manager, Global Community Engagement, Girl Up, Inc.
Chandeerah S. Davis has an extensive background in social justice work. As a prison abolitionist and child of an incarcerated parent, Chandeerah has spent much of her life working to advocate for and with BIPOC survivors of violence, marginalized youth and adults, and organizations dedicated to supporting both incarcerated and formerly incarcerated individuals.
Chandeerah's experience and expertise in the field of youth development and education spans 2 decades with diverse audiences. Chandeerah has enjoyed supporting adolescent survivors of intimate partner violence (IPV). She has developed and facilitated a variety of innovative, trauma-informed, anti-oppresive programming focused on the prevention of IPV, prevention of  injustice and racial inequity, on restorative and transformative approaches to violence, on advocacy and healing for survivors, as well as trainings and education intended to increase awareness of the epidemic of gender based violence (GBV) and how it is intrinsically linked to white supremacy.
Chandeerah is most proud of her ongoing advocacy and activist efforts designed to transform the rhetoric and institutions that sustain such violence. At the intersection of GBV and youth development, Chandeerah has worked in youth-serving programs, direct- service community based organizations, schools, faith communities, carceral settings and a host of other spaces creating and uplifting trauma-informed and healing-centered praxis and policy. Because she cannot remember a time where her life was not impacted by systemic and institutionalized inequity, Chandeerah has focused on working in partnership with other marginalized people and those who endeavor to hold space, develop, support, or learn from them.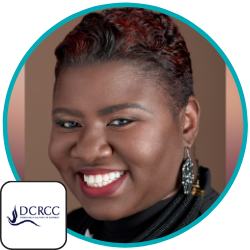 Dr. Indira Henard
Executive Director, DC Rape & Crisis Center
Dr. Henard has been with the DC Rape Crisis Center for the last fourteen years serving in different capacities, lending invaluable experience including leadership roles in fundraising, operations, cultivating relationships and strategic partnerships, as well as coalition building. Under Dr. Henard's Executive leadership  she has not only repositioned the oldest rape crisis center in the country, but she has laid a strong foundation as the agency is celebrating 50 years of survivor centered, and community led services. Additionally, under Ms. Henard's leadership the DC Rape Crisis Center received the 2019, and 2020 Best Places to Work by the Washington Business Journal, the 2019, 2020, 2021 , and 2022 Best of Washington Award to include the Business Hall of Fame, as well as the 2019 Agency of the Year Award by the National Association of Social Workers.
Dr. Henard' s direct service experience in many gender-based violence programs has helped to inform her policy analysis that has led to coordinating public policy initiatives and organizing and planning spaces for survivor led advocacy.  Spanning over 20 years of dedicated service in the violence against women's movement, Dr. Henard' s experience exemplifies her expertise in non-profit management, organizational development, crisis management , education, training, fundraising and public policy.
Dr. Henard has worked nationally and internationally in helping organizations build capacity to respond to the needs of sexual violence in their communities.  Dr. Henard's high level training and technical assistance provided to local nonprofits, and international NGO's has resulted in the repositioning of the sexual assault coalition in the District of Columbia, partnering to help open the first rape crisis center in Lagos, Nigeria, as well as working with a coalition of international NGOs in developing a mobile app to aid refugee workers who are working with sexual assault victims. Most recently, Dr. Henard was selected to serve on the Independent Review Commission to address Sexual Assault in the military under the Office of the Secretary of Defense as ordered by President Biden.
Dr. Henard has been recognized locally, and nationally, for her contributions to the violence against women movement to include, but not limited to the following, the 2015 national "Victim Impact Award" from the Academy of Criminal Justice Sciences. In 2018, Dr. Henard was named by Essence Magazine as one of four African American women on the ground doing sexual violence work. She was also named in 2018 by the Washington City Paper as one of 20 people in DC making a difference.  She also received the 2018 alumni achievement award from National Catholic School of Social Service at the Catholic University of America. Dr. Henard was named the 2019 Community Leader of the Year by RALIANCE, as well as she received the 2019 40 under 40 award from the Washington Business Journal.  Dr. Henard received the 2020 Washington Women of Excellence Award presented by Mayor Muriel Bowser of Washington, DC, and was named by Washington Business Journal as one of 2020's People on the Move.  Additionally, Dr. Henard was selected to be a part of the 2021 class of Leadership Greater Washington. Most recently, Dr. Henard was awarded the 2020 Washingtonian of the Year award, and received the 2021 Women Who Mean Business Award, presented by the Washington Business Journal.
Dr. Henard currently sits on numerous boards and commissions including but not limited to the Alumni Board of the National Catholic School of Social Service where she also holds a faculty appointment, the Board of Directors for the National Alliance to End Sexual Violence, The Board of Trustee's at Wheaton College in Norton, MA. Dr. Henard was most recently appointed to the UBER Safety Advisory Board, as well the Board of Directors for Leadership Greater Washington. Additionally, Dr. Henard serves as an adjunct faculty member at Catholic University, and Howard University.
Take Action for Girls: International Day of the Girl, October 12th, 2021
Take Action 2021: A Year in Review