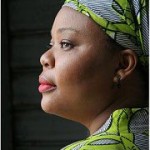 Not even a month after her book, Mighty Be Our Powers, was published in September 2011, Leymah Gbowee won the Nobel Peace Prize along with two other women, President Ellen Johnson-Sirleaf of Liberia and Tawakkol Karman of Yemen.  Gbowee was awarded the prize for "mobiliz[ing] and organiz[ing] women across ethnic and religious dividing lines to bring an end to the long war in Liberia, and to ensure women's participation in elections."  Many people became aware of Gbowee after the prize or as a result of the Abigail Disney's well-known and well-made documentary about the Liberian women's peace movement, "Pray the Devil Back to Hell."
Gbowee's autobiography is a stunning read – not because it focuses on her winning the Nobel Peace Prize or ends with it as a validation of her work – but precisely because it doesn't.  The book tells the compelling and often common story of a woman greatly affected by a gruesome civil war, who took a long and bumpy path to mobilizing others for peace and to understanding her own power.  It's about the difficulties she faced in her personal life, losing family members to war and illness, raising her children, dealing with domestic abuse and drinking to self-medicate.   It's about the challenges of working in coalitions when resources are scarce and when the constituencies of different women's groups give them different access to the levers of advocacy.  It's about being angry, sad, hopeless and strong.  And, it's about taking the path that you believe is right, even when that path is hard and overgrown with weeds.
For me, the book and Gbowee's story make the Nobel Prize even more meaningful, and Gbowee's resolve and personal power more inspirational.   Yes, the book is about war and loss, but it's also about personal strength and struggle, the importance of faith in yourself and the tenaciousness to keep going.