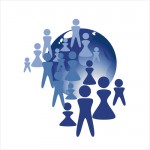 I am always struck by how, despite our differences around the globe, there are so many similarities in the challenges we share as women and the potential solutions.  Here's a case in point.
In May, I interviewed Ifat Zamir, the Executive Director of Israel's WePower for this blog. WePower is a group dedicated to getting more women in positions of power in Israel.   When I received WePower's most recent newsletter, I was pleased to see that in addition to all of the great work the organization does engaging women in politics, it is also taking on one of the most critical issue for business today: getting more women on corporate boards.  In June, WePower held its third annual event "Women on Boards of Directors" conference at the Tel-Aviv Stock Exchange.  At the conference, WePower launched the first ever "Women's Representation in Corporations Index" in collaboration with D&B Israel to examine women's participation in top management and in Board of Directors' positions of publically-traded, Israeli companies. The results, which were presented at the conference, show that only 4% Board Chairs, 4% CEO's and 17% Board members are women.   The conference focused on how to increase these numbers and ensure that the valuable insights and values that women bring to corporate governance help build a stronger Israeli economy.
Around the world, this is a cutting edge competitiveness and sustainability issue for business.  Early research indicates that having more women in corporate leadership has a positive impact on corporate governance and fiscal accountability.  WePower's work is in line with what others are doing globally on this issue.
In the US, for example, there are various organizations working to increase the visibility of possible women board members, to counter the argument that there aren't enough qualified women to sit on boards.  Several European countries have passed legislation to mandate that a certain percentage of corporate board seats (usually between 30 and 40 percent) be held by women. In the United Kingdom, on the other hand, the 30% Club is an advocacy group that is working with major corporations on voluntary commitments to bringing more women onto corporate boards, has been advocating for others to follow their lead.  (Full disclosure: my friend Baroness Goudie is very active in the 30% Club.)
So, while these efforts are uniquely tailored to country-specific environments, they are also global in reach and impact, and important to help build stronger, sustainable financial institutions.    We are really all in this together.