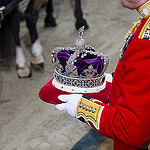 On May 9, thanks to my friend Baroness Mary Goudie, I was privileged to attend the Queen's Speech to the House of Lords and the House of Commons (yes that Queen!).   The Queen's Speech marks the opening of Parliament in the UK, but for the American watching it, the day is really a combination of State of the Union and the opening day of a new session of Congress.   Here a link to some official pictures; they are great.   (Also in this photo, I am in the first row on the left hand side about half way down the row in the peach jacket!!)
It was a wonderful day of pomp and circumstance and great people watching.  Most importantly, however, I came away with a better understanding of the interrelationship between the British system and ours, and how our system both embraces and  rejects the British system.   There are obvious differences – the monarchy, an appointed upper house of parliament and centuries of tradition.   But so much is familiar – the importance of institutions, the rule of law and of course the spirited and partisan debate (in the best sense of the word) around how to move a country forward.  
The policy debates central to British politics were certainly embedded in the speech – deficit reduction, the role of the private sector and government, workplace policies – but to me, the language was broad and non-specific.   The differences between the parties on the issues of the day, however, came out in earnest that afternoon, when the House of Lords and the House of Commons returned to set out their views and debate the policies set out in the speech. 
My favorite part (besides seeing the Queen walk right in front of me!) was a sense that these institutions, and our countries, are interconnected and intertwined and will be for years to come.