Interviews and In the News
Stephenie is regularly interviewed on a diverse set of issues, such as investing in women and girls, foreign policy, security and women's economic and political participation. Stephenie is also available for media interviews, and is part of the SheSource expert database.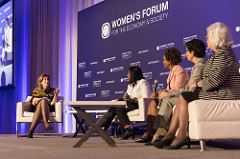 When women's participation in the labor force increases, GDP rises. When women start businesses, communities flourish. When women are promoted to senior management and appointed to corporate boards, companies do better. We ignore this compelling data at our peril....